Add a Fact from Any Webpage
We're building FactBox to track what you need to win your case, wherever you encounter it. Today, we're making it easier than ever to add facts from the web with our new Chrome App.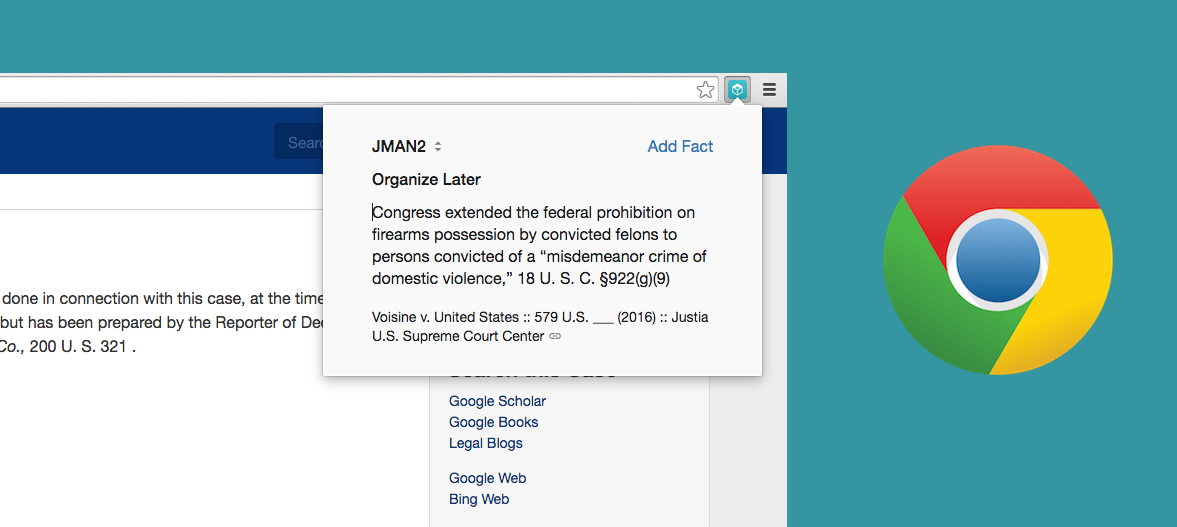 The FactBox Chrome extension is a streamlined way to add a fact from any webpage with just two clicks. On most webpages, we've even eliminated the need to copy and paste!
With the Chrome extension, you highlight the text you want, then click the FactBox icon in the top right corner of your browser. The extension automatically copies your selected text into the content window and sets the link to your current webpages as the source. You can also assign a relevant issue and select the case where you'd like to assign the fact.
How to get it?
Ready to improve your web research? If you're using Chrome, you can download the extension from the Chrome Webstore. (If you're not using Chrome, you can download the browser here). Install is as simple as clicking the blue "Add to Chrome" button.
As always, if you have any questions or feedback, you can send them along to John or Derrick.
Happy fact gathering!